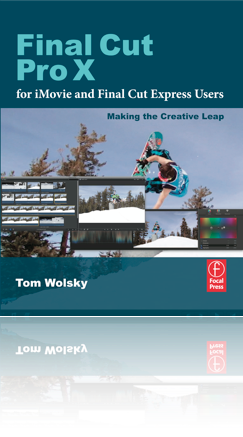 Basic Training for Final Cut Studio 2 is Tom Wolsky's Horizon Interactive award-winning training instructional training created with Class on Demand. This is a basic program with over four and a half hours of instruction and tips to get you up to speed fast with the applications in Final Cut Studio 2, including the new Soundtrack Pro 2, Motion 3 and Color. Providing a comprehensive overview of the applications, the set comes with three DVD that include project and media files to give the student the opportunity to follow along in hands-on, project-based learning, just like taking a class from a master teacher. It is also available for online delivery and download.
It covers the whole range of skills from learning the interfaces, to using the applications efficiently, with an overview of the workflow and lots of tips and tricks, all the skills that are essential for working with these great applications. The training goes through a series of instructional exercises designed to teach the necessary fundamentals.
Samples of my training for Final Cut Express can be found here.
Where can I get Basic Training? It's available now  from Amazon or from Class on Demand.

Copyright © 2005-2011 South Coast Productions